Recently viewed products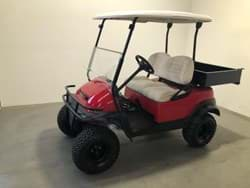 Refurbished cart, ready to ship!

New products mounted:

New steel cargo box
New lift kit
New 10" rims with Sahara terrain tires
New brush guard
New fender flairs

Batteries:
No batteries are present in this cart.
Special price new batteries mounted:
Trojan € 999,- / Varta € 849,-

Pictures:
Please click on the pictures for optical details.

Warranty:
3 months / 1 year on all new parts.